There is nothing like a challenge to bring out the best in man. - Sean Connery
Hi Pythonistas, a new week, a new 'bite' of Python coding! This week we have another nice free-form challenge for you: after last time's API challenge success, we have a part 2 this week where we will let you post to your favorite API.
The Challenge
We keep it free-form so you can go wild on consuming your favorite service(s) / data. The difference with last time is that you actually have to edit your account by doing one or more POST requests. Examples:
Still searching for APIs? Last time we linked to these two resources: fun APIs to play with (reddit thread) and programmableweb.
---
Getting ready
See our INSTALL doc how to fork our challenges repo to get cracking.
This doc also provides you with instructions how you can submit your code to our community branch via a Pull Request (PR). We will feature your PRs in our end-of-the-week challenge review (previous editions).
Feedback
If you have ideas for a future challenge or find any issues, please contact us or open a GH Issue.
Last but not least: there is no best solution, only learning more and better Python. Good luck!
---
Keep Calm and Code in Python!
-- Bob and Julian
PyBites Python Tips
Do you want to get 250+ concise and applicable Python tips in an ebook that will cost you less than 10 bucks (future updates included), check it out here.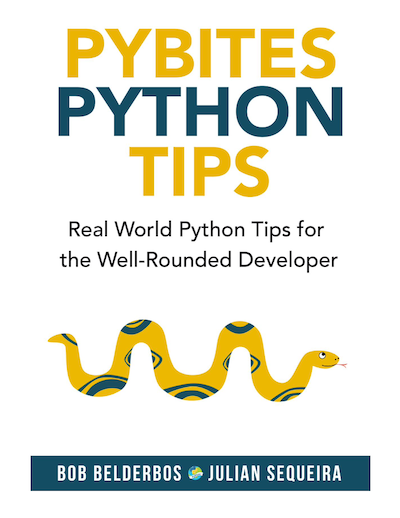 "The discussions are succinct yet thorough enough to give you a solid grasp of the particular problem. I just wish I would have had this book when I started learning Python." - Daniel H
"Bob and Julian are the masters at aggregating these small snippets of code that can really make certain aspects of coding easier." - Jesse B
"This is now my favourite first Python go-to reference." - Anthony L
"Do you ever go on one of those cooking websites for a recipe and have to scroll for what feels like an eternity to get to the ingredients and the 4 steps the recipe actually takes? This is the opposite of that." - Sergio S