New Home Page Dashboard
On logging into our CodeChalleng.es platform, you've previously been directed straight to the list of Bites.
At PyBites we like to keep things lightweight and trimmed down (still an ad free experience!) so going straight to the Bites list has actually been working for us.
As the library of Bites has grown however, we've realised that there's been nothing on the platform letting you know a new Bite has been released! The only way we were notifying users was via Twitter and occasionally via the platform internal messaging system.
We're proud to say that you'll now see a brand new dashboard on the home page when you login to the platform!
If you're currently on our free tier, your dashboard will display the platform subscription text, an announcement panel and below, a list of our latest News Posts (like this one!) and our newest Bites and Blog Code Challenges.
If you're already subscribed, you'll see the same dashboard minus the subscription text - no need seeing as you're already subbed right?
The dashboard will continually evolve as we create more widgets to add to the board.
Overall, it will provide greater visibility on updates to the platform as we make them.
We've covered the features in the following video from our new YouTube Channel.
Feature Requests
If you have any ideas or features you'd like to see added to the platform, please let us know through the platform messaging system.
---
>>>

 

from

 

pybites

 

import

 

Bob

,

 

Julian





Keep

 

Calm

 

and

 

Code

 

in

 

Python

!



PyBites Python Tips
Do you want to get 250+ concise and applicable Python tips in an ebook that will cost you less than 10 bucks (future updates included), check it out here.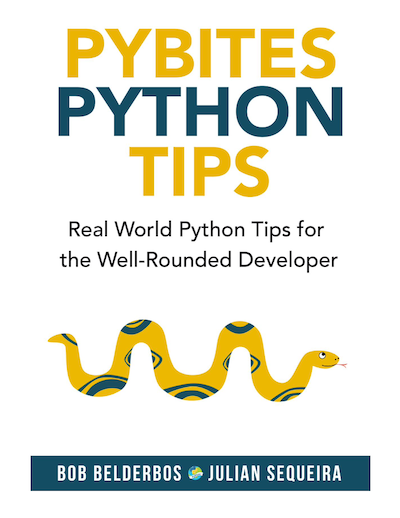 "The discussions are succinct yet thorough enough to give you a solid grasp of the particular problem. I just wish I would have had this book when I started learning Python." - Daniel H
"Bob and Julian are the masters at aggregating these small snippets of code that can really make certain aspects of coding easier." - Jesse B
"This is now my favourite first Python go-to reference." - Anthony L
"Do you ever go on one of those cooking websites for a recipe and have to scroll for what feels like an eternity to get to the ingredients and the 4 steps the recipe actually takes? This is the opposite of that." - Sergio S