PyCon 2017 was such a great conference, I made so many good connections, got to see many good things the community is working on. It was very inspiring.
In this article I will summarize some highlights and link to other resources.
Networking
The best thing you can do at a conference.
In that context the best lesson I think came from @AlSweigart:
... skip all the talks - conference is primarily about meeting new people.
All the talks are up and you can watch them at your own pace, the in-person networking could only be done during these days though so I am happy I did plenty of that :)
Ideas, ideas, ideas. The expo hall was filled with companies and interesting people. I spoke with various companies and great software developers, I met with Dan Bader, Mike Kennedy, Brian Okken, Anthony Shaw, Trey Hunner, and many more, which gave me a lot of inspiration.
Talks / workshops
Why don't you use C instead of Python? It's so much faster

Why don't you commute by plane instead of car? It's so much faster.
Some that I missed and plan on watching next:
I did see a lot of Python 3.6 mentioned/used, which seems a good trend.
Great community
One talk I wanted to highlight in particular is Mariatta Wijaya's Dial M For Mentor about finding a mentor and how she became the first Woman Python Core Dev. She received a standing ovation and it goes on to show how awesome our Python community is.
Mentors learn from you too.

...

Good mentor's don't hang around in communities that enable and accept trolls and assholes.
Some impressions
For more impressions check hashtag #pycon2017 on Twitter and our special digest we published during the conference weekend.
---
Keep Calm and Code in Python!
-- Bob
PyBites Python Tips
Do you want to get 250+ concise and applicable Python tips in an ebook that will cost you less than 10 bucks (future updates included), check it out here.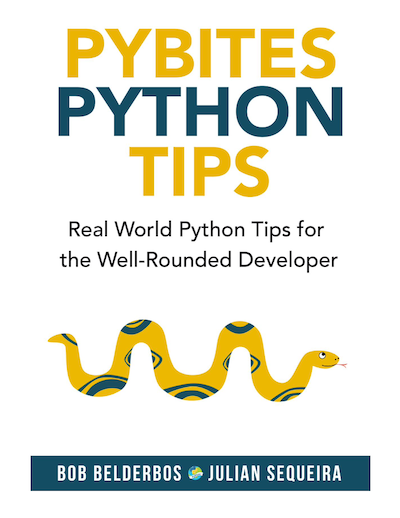 "The discussions are succinct yet thorough enough to give you a solid grasp of the particular problem. I just wish I would have had this book when I started learning Python." - Daniel H
"Bob and Julian are the masters at aggregating these small snippets of code that can really make certain aspects of coding easier." - Jesse B
"This is now my favourite first Python go-to reference." - Anthony L
"Do you ever go on one of those cooking websites for a recipe and have to scroll for what feels like an eternity to get to the ingredients and the 4 steps the recipe actually takes? This is the opposite of that." - Sergio S