Life is about facing new challenges - Kostya Tszyu
Hi Pythonistas, a new week, a new 'bite' of Python programming! Last week we wrote an article on improving the quality of your code with Better Code Hub. This week we let you refactor a Python project.
You can even win awards thanks to SIG who is sponsoring this challenge!
The Challenge
Update: initially we had you pick and improve one of your repos or forks. SIG provided us with a more interesting approach though: SpringCleaning which template we adopted for this challenge. Check out the instructions below. We will use label PyBitesChallenge35 and only accept Python related projects.
As a maintainer
(If not already done) Enable issues in the repository's settings page on GitHub.
Create a 'PyBitesChallenge35' - label Here's how.

Create issues based on the proposed prioritized refactoring candidates from Better Code Hub and attach the PyBitesChallenge35 label to them. Here is an example:

To enable Better Code Hub to run on every Push and Pull Request, click the ⚙ icon and toggle the "Push & Pull request analysis" switch. This will activate the webhook.
As a contributor
Want to see a sample Better Code Hub report?
Head over to bettercodehub.com and login with your GitHub account. You'll then see your repos, and you can start an analysis clicking the ▶️ button. It will analyze the default branch. Or checkout our article.
What's the reward for participation?
If you participate in this initiative you get rewarded with:
The first 25 contributors that get one Pybites Code Challenge Pull Request accepted will get a free month of Better Code Hub PRO.

The first 10 contributors that get two Pybites Code Challenge Pull Requests accepted will get a hard copy of Building Maintainable Software (O'Reilly).

If you're a maintainer, you get a cleaner code base and new contributors to extend your repository. 😊
Resources
Feedback
If you have ideas for a future challenge or find any issues, open a GH Issue or reach out directly.
Our goal is to learn more Python which is way cooler as a community. Good luck and have fun!
---
Keep Calm and Code in Python!
-- Bob, Julian and the folks @ SIG
PyBites Python Tips
Do you want to get 250+ concise and applicable Python tips in an ebook that will cost you less than 10 bucks (future updates included), check it out here.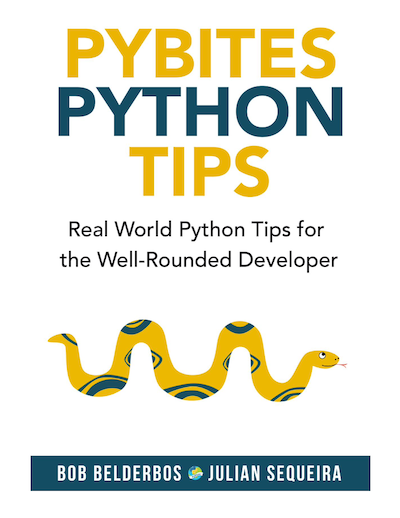 "The discussions are succinct yet thorough enough to give you a solid grasp of the particular problem. I just wish I would have had this book when I started learning Python." - Daniel H
"Bob and Julian are the masters at aggregating these small snippets of code that can really make certain aspects of coding easier." - Jesse B
"This is now my favourite first Python go-to reference." - Anthony L
"Do you ever go on one of those cooking websites for a recipe and have to scroll for what feels like an eternity to get to the ingredients and the 4 steps the recipe actually takes? This is the opposite of that." - Sergio S