After Julian's great article on deploying a Flask app to Heroku, let's look at how we can deploy a Django app to PythonAnywhere (PA). In this article I share a few things I learned deployed our first Django app.
Good docs + nice interface
One of my first tries was the API / helper script, but unfortunately it did not make it to the end. Yet the Deploying an existing Django project on PythonAnywhere using the Manual option worked great for me:
Our first Django app is online:
22nd of Jan 2018 update: we ended up hosting this on Heroku.
I really like the infrastructure of browser consoles and intuitive GUIs. Also config files like wsgi.py were clearly commented so setting it up was quick and almost painless.
Git + venv
Important steps of the deployment steps are git pulling your code and creating a virtual env, this worked very well.
After this step I could just do a pip install -r requirements.txt to pull down Django and feedparser.
Now when I make changes to my app I can just do a git pull in the repo dir and restart the app in the browser. It just takes seconds :)
Scheduled tasks ... OK time to upgrade
Our app pulls in new articles from Planet Python as explained here. Planet was not on PA's whitelist and I wanted this task to be run every hour (instead of once a day). At this point I had to upgrade from Free to the Hacker tier. This has additional benefits, check out pricing.
Similar to other providers, at PA you pay for what you need/ consume. You can add apps on the fly. I'd hoped to get a small PostgreSQL DB with Hacker's tier, but that requires further upgrading ...
The interface to set up a scheduled task is nice and easy:
Notice that I activate the venv in the command because it needs to load env variables.
Less obvious
Multiple apps
As the Hacker tier gives me one app I made this container project / repo to host multiple apps in. It's a nice exercise in Django's architecture of one project -> multiple apps that can be moved around. As said, PA's pricing structure is pretty flexible, so we can always add apps if necessary.
Conclusion
So far I am happy with PA. In spite of some minor issues it is easy to deploy a Django app and it performs well. The help docs are well written.
They are also quite proactive: there was a file server issue last weekend which they updated via Twitter. And they just posted a full post mortem!
It was easy to reach out to support and I got a quick response. I also like the short email tutorial updates.
I will compare with Heroku pricing for PostgreSQL because adding one bumps the monthly price up from 5 to 12 USD (at this time of writing). Or I go with their default MySQL which is free.
---
Keep Calm and Code in Python!
-- Bob
PyBites Python Tips
Do you want to get 250+ concise and applicable Python tips in an ebook that will cost you less than 10 bucks (future updates included), check it out here.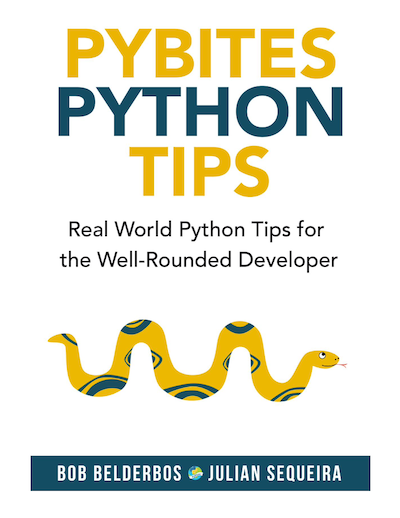 "The discussions are succinct yet thorough enough to give you a solid grasp of the particular problem. I just wish I would have had this book when I started learning Python." - Daniel H
"Bob and Julian are the masters at aggregating these small snippets of code that can really make certain aspects of coding easier." - Jesse B
"This is now my favourite first Python go-to reference." - Anthony L
"Do you ever go on one of those cooking websites for a recipe and have to scroll for what feels like an eternity to get to the ingredients and the 4 steps the recipe actually takes? This is the opposite of that." - Sergio S